Je voulais poster quelque chose samedi, je le voulais vraiment. Mais je n'étais pas capable de le faire, c'était trop tôt pour ne pas faire un message dicté par l'émotion.
I wanted to post something saturday, I really did. But I was not able to do it, it was too soon for a message that would not be based on emotion.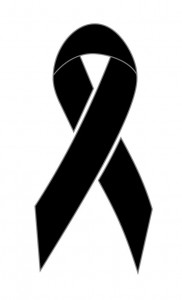 Tout d'abord un grand merci à tous pour les messages demandant des nouvelles, c'est tellement adorable à vous tous ! Mon mari et moi étions non loin des attaques terroristes mais fort heureusement assez loin pour ne rien remarquer au moment où ça avait lieu. Nous avions des amis parmi les personnes prises pour cible mais ils vont bien. Bref, nous sommes très chanceux et avons de nombreuses pensées pour ceux qui n'ont pas eu cette chance.
I wanted to say a huge thank you to all the people who send me messages to ask if we were OK, that's so sweet ! My husband and I were not very far from the terrorist attacks but we were far enough and did not notice anything. We had friends among the people attacked but all of them are safe. In fact we have been very lucky and think of all the people who did not have our luck.
Bien entendu, ces terroristes ont complètement raté leur mission : jamais les français n'ont été aussi amoureux des valeurs qu'eux ont en horreur et veulent détruire. Nous sommes nombreux à refuser de vivre dans la peur d'une minable petite secte, même si nous ne prendrons pas de risques inutiles dans les jours qui viennent. Et une grande majorité d'entre nous ne fera pas d'amalgames (mais il y a des gens bêtes partout, ça c'est un fait).
Of course this terrorists failed their mission : french people have never been so in love with all that they hate and want to destroy. Most of us refuse to live in fear of a pathetic sect, even if we will not take unnecessary risks during the following days. And most of us will not make any amalgame of any kind (but there are jerks too among us, that is a fact).
Enfin, un grand merci aux forces de police, aux pompiers, au personnel médical et à nos soldats !
A big thank you to the police forces, to firemen, to medical workers and to our soldiers !
Enfin, je terminerai sur une tenue que je n'assumais pas trop avant aujourd'hui : du bleu, du blanc et du rouge. En fait dans mon esprit c'est trop lié à la révolution française, et plus exactement à la Terreur (sans doute la pire des époques en France avec la saint Barthélemy) mais je suis plutôt contente que les réseaux sociaux s'en soient parés pour le reprendre aux extrémistes qui se l'étaient approprié depuis bien trop longtemps. 
I will finish with a costume I did not fully assume before today : it's colored with blue, white and red. In my mind this colors used to be related to the Reign of Terror (one of the worst periods of french history with the St Bartholomew's massacre) but I am quite happy that social networks used it (because before that it had been stolen by extremist groups for too long).
Cette tenue est inspirée de celles qui ont été portées le 14 juillet 1790 lors de la fête de la Fédération. C'était le premier moment d'union nationale et l'acte de naissance du patriotisme français peut-on lire dans les livres d'histoire… Alors c'était le bon moment pour vous la montrer 🙂
This outfit is inspired by those which were worn the 14th of july 1790, during the "Fête de la Fédération". History books tell that it's fisrt day of national union and the birth of french patriotism… It's the good day to show it to you 🙂 

Il s'agit d'un pierrot en soie bleu et rouge, porté au dessus d'un corsage en soie rouge et avec une jupe blanche en lin. Les accessoires sont une coiffe de dentelle garnie de plumes d'autruches mousseuses, un petit fichu blanc et une ceinture en velours de coton bleue.
It's a blue and red pierrot made of silk, worn with a red silk bodice and a white linen skirt. The accessories are a white lace cap decorated with foamy ostrich feathers, a small white fichu (the neckerchief) and a blue cotton velvet belt.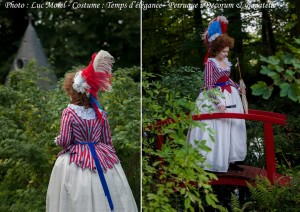 Ah, et petit message à la personne qui m'enjoint régulièrement (en arable) à porter le voile dans les commentaires : "ah ah ah ah. Liberté, égalité, fraternité. Et j'ai le bouton d'effacement rapide."
Ah, and a last message to the reader who often tells me (in arabic) to wear the islamic veil in the comments : "Lol. Liberté, égalité, fraternité. And my finger is fast on the delete button. "