Cela fait un bon moment que je n'ai pas fait de critiques costumes de films ou séries. Alors je vais reprendre un peu le rythme en commençant par un film d'horreur se passant vers 1630 aux Etats-Unis, parmi les pionniers : "The Witch", réalisé par Robert Eggers avec Linda Muir. Voici la bande annonce au cas où vous ne l'ayez pas encore vue (le film est sorti il y a quelques semaines) :

[ Translation by Emily Maynard, thank you Emily ! ]

It's been a while since I've done any costume reviews for a movie or television series, so I'm going to pick that back up by starting with a horror film that takes place in the United States around 1630, the time of the pioneers. The movie is "The Witch", directed by Robert Eggers with costumes designed by Linda Muir. Here's the trailer in case you haven't seen it yet:
| | | |
| --- | --- | --- |
| Quelques mots sur le film en lui-même, qui semble déclencher des réactions très tranchées dans le public : soit on adore, soit on déteste. De mon côté je suis plutôt dans la première catégorie alors que j'ai tendance à souvent sortir dépitée des films d'horreur. Celui-ci a des caractéristiques que j'ai trouvé très intéressantes : la reconstitution historique à un niveau très très élevé (y compris dans les croyances religieuses) et surtout le fait que l'histoire est un huis-clos à l'ambiance pesante. Si vous aimez les films d'horreur qui montrent un tas de choses, vous met des "jump scares" de partout et où l'histoire est haletante alors passez votre chemin ! Le réalisateur prend ici le temps de poser les choses, de nous faire mieux comprendre la mentalité de personnes ayant quitté leur pays sans espoir d'y revenir un jour, ayant dit au revoir à leurs proches, et surtout s'installant au milieu d'un pays vaste et plutôt hostile avec presque aucune possession. Ce film joue sur la corde entre réalisme et surnaturel, avec des personnages fanatiques et psychotiques (ce qui peut s'expliquer à l'époque car l'ergo du seigle consommé peut donner des hallucinations), se contentant d'expliquer le film dans les toutes dernières scènes. Bref, un des meilleurs films d'horreur que j'ai vu en ce qui me concerne. | | In regards to the film itself, which seems to have triggered distinct reactions among the public, you either love it or hate it. In my case, I fall into the first category since I often have the tendancy to go see horror films and being disappointed. This movie has characteristics that I find very interesting: very, very high quality of historic reproductions (including the religious beliefs) and the story is quite troublesome because all the horror happens as the only characters are a family (two parents and their children). If you like horror films that show a variety of things, cause you to jump out of your seat, and have a story that leaves you breathless, keep on walking! This director takes the time to set things up, to let us better understand the mentality of the people who had left their country without any hope of returning one day, having said good-bye to their loved ones, and settling down in the middle of a huge, and rather hostile, country with barely anything to their name. The film borders on realism and supernatural and includes fanatic and psychotic characters (which at the time could be diagnosed as the rye ergot fungus, a type of mushroom parasite which could cause hallucinations if consumed), which really play out in the final scenes of the film. In short, this is one of the best horror films I have ever seen. |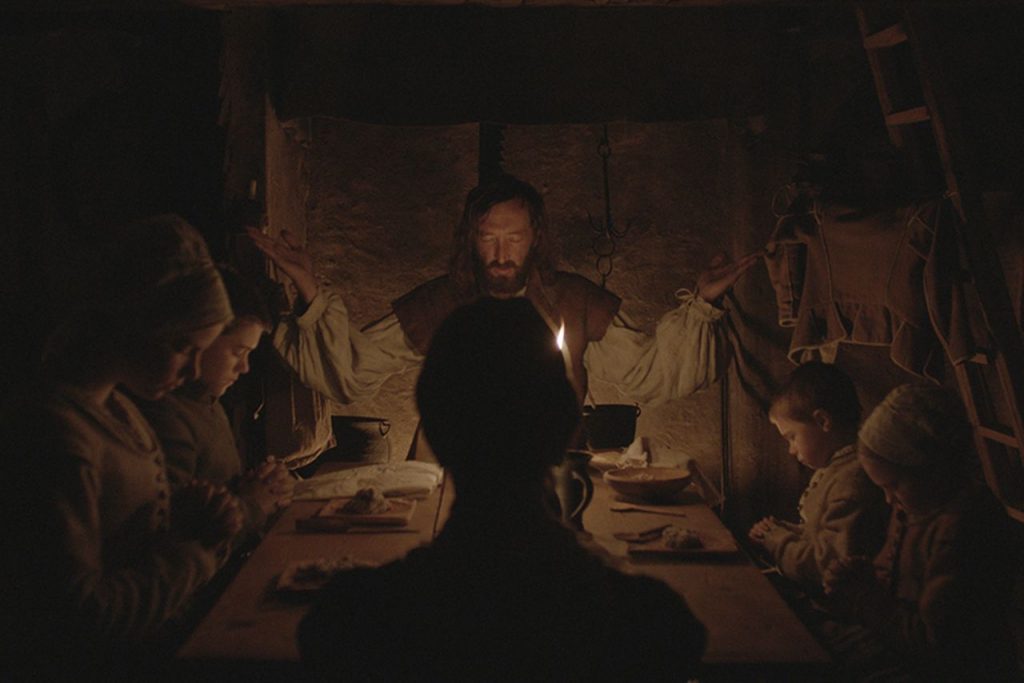 Parlons maintenant costumes. En un mot : "wahouuuuu !".
J'ai assez rarement vu un niveau de reconstitution de cette qualité. Matières, coupes, sous-vêtements et accessoires, tout y est.

Now let's talk costumes. In one word? "Wow!".
I've rarely seen a level of reproduction of this quality. Materials, the cuts, undergarments, and accessories… everything is there.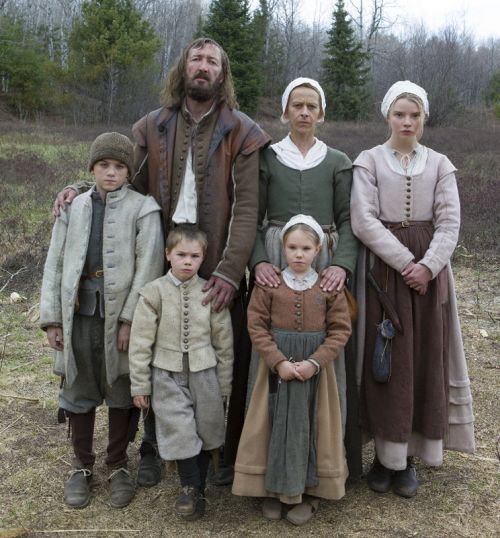 | | | |
| --- | --- | --- |
| La conception est parfaite, la réalisation est maitrisée et le travail de patine (le fait de vieillir le costume pour lui donner ce look "usé" et "porté") est très bien fait. Linda Muir, la costumière, a expliqué avoir fait beaucoup de recherches et avoir épluché beaucoup de bibliographie avant de faire les dessins préparatoires (voir image suivante). Elle avait un budget très réduit pour l'ensemble de la garde-robe, mais fort heureusement pour elle il y a peu de personnages à costumes puisque la famille est composée de six personnes. | | The conception is perfect, the realization is mastered, and the patina work (patina is the art of making a costume look older, like giving it a "used" or "worn" look) is very well done. Linda Muir, the costume designer, explained that she had done a lot of research and dissected a lot of bibliographies before making the preliminary designs (see the following image). She had a very small budget for wardrobe but, luckily for her, there weren't a lot of characters to costume since the family was made up of six people. |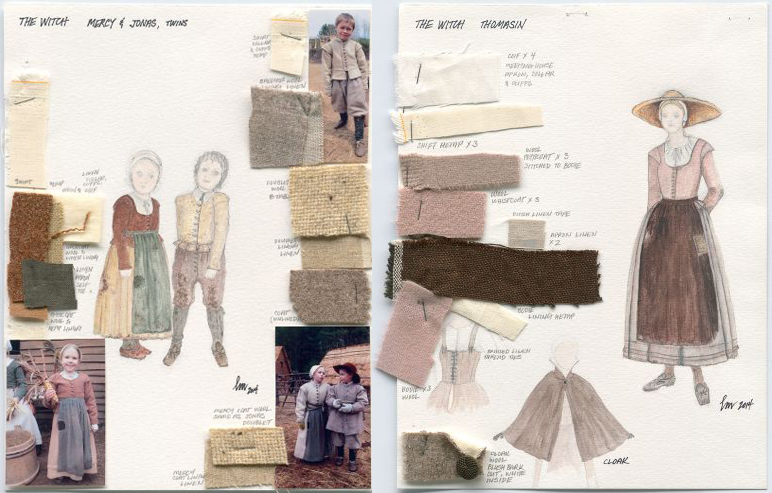 | | | |
| --- | --- | --- |
| Seule la première partie du film présente de nombreux costumes, car la famille est au sein d'une communauté avant de s'en faire bannir. La costumière a fait appel à un loueur de costumes (car c'était uniquement pour des scènes rapides, donc inutile de fabriquer les costumes) et a ajouté des accessoires (cols, bonnets, …) fabriqués par son équipe (qui a parfois travaillé dans des conditions que l'on connait bien quand on est costumier, au beau milieu de la forêt par exemple !). Elle a aussi eu de l'aide par les gens d'un village pratiquant l'histoire vivante où ces scènes ont été tournées, car les personnes qui s'y trouvent font de la recherche en même temps qu'ils vivent comme à l'époque 24h sur 24h. | | The first part of the film has the most costumes in it because the family is at the heart of a community before being bannished. The costume designer relied on costume rentals (only because they'd be used for brief scenes, hence it'd be useless to make those costumes) and added accessories (collars, hats, etc) made by her team (who sometimes worked in conditions that are well-known when you are a costumer, like the middle of the forest, for example!). She also had the help of living historians who practice the lifestyle of the pioneers (https://www.plimoth.org/) because they have done research on the same time period and have adapted to living like the pioneers 24/7. |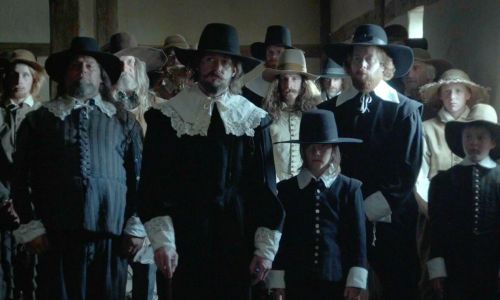 | | | |
| --- | --- | --- |
| Certains reconstituteurs se sont étonnés de la petite pièce ajoutée au dessus des emmanchures et du fait qu'elle soit sur tous les costumes de la famille. Ce n'est pas ma période de prédilection mais ça ne m'a pas du tout choqué car ce me semble être le signe que les manches de tous les costumes sont amovibles : lorsque l'on a peu de vêtement il faut pouvoir les porter y compris en hiver et sous la chaleur, donc on pouvait retirer les manches des pourpoints et des corsages afin de laisser passer les manches des chemises uniquement (et non pas les bras nus, contrairement à ce que Jonathan Rhys-Meyer vous a montré dans les Tudors !). De plus, il est plus que vraisemblable que tous les costumes aient été fais par la mère de famille dans le film : une seule couturière = looks et techniques proches d'un costume à l'autre (on le voit souvent quand une garde-robe ancienne est mise aux enchères : on peut assez facilement regrouper les costumes par couturier). | | Certain living historians were surprised by the little piece added over the armhole and the fact that this piece is found on all of the family's costumes. This isn't my period of preference but it doesn't surprise me at all because it appears to be a sign that sleeves of all the costumes are detachable; for example, if you didn't have a lot of clothes and had to wear the same thing throughout winter and summer, you could always remove the sleeves of your doublet or blouse and use the sleeves of your chemise instead (and bare arms are a no-no, contrary to what Jonathan Rhys-Meyer showed you in The Tudors!). Furthermore, it's very possible that all of the clothing could have been made by the mother of the family in the film: only one seamstress = similar looks and techniques used with each costume (you often see this when previously used costumes and wardrobes are up for bid: you can easily tell you which hand has made which costume). |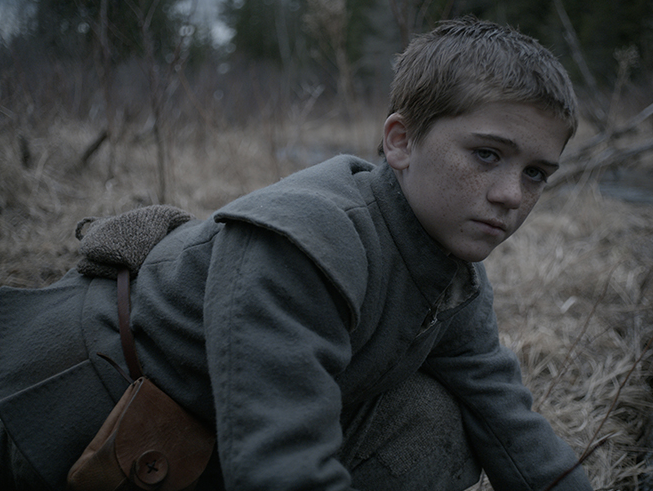 | | | |
| --- | --- | --- |
| Autre chose intéressante dans ce film, c'est le fait que les sous-vêtement sont tout à fait historiques et bien portés ! C'est assez rare au cinéma pour être signalé ! Et comme on voit les personnages dans leur vie quotidienne alors on a le temps d'admirer le soin pris à la moindre pièce d'habillement. | | Another interesting thing about the film is that the undergarments are all historic and are in great shape! It's rather rare that a film would bring this to our attention, too! And, since we see the characters in their everyday life, we have the time to admire the care used in even the least important piece of clothing. |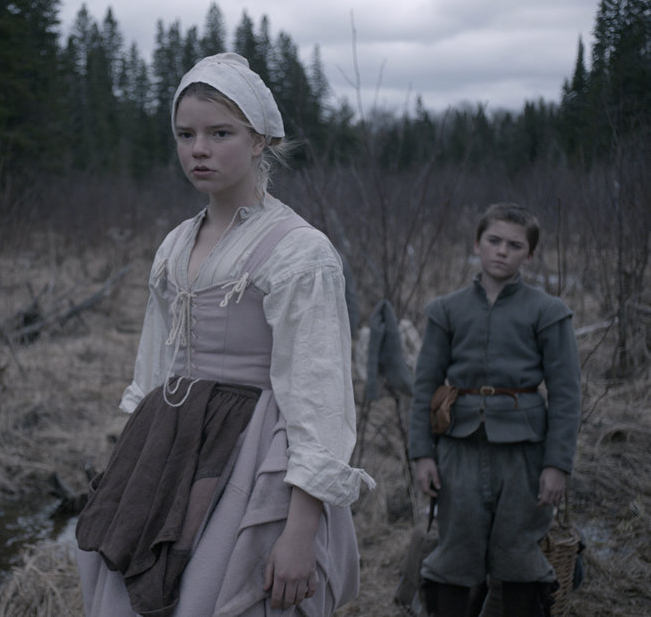 | | | |
| --- | --- | --- |
| Enfin, je reviendrai sur la patine des costumes : vraiment un travail admirable ! Je n'ai jamais eu l'occasion de le faire moi-même sur un tournage car la plupart du temps les costumes sont loués (et qu'on ne peut donc pas les abîmer au risque de perdre la caution) mais j'espère un jour avoir la possibilité de le faire… | | To finish, I'm coming back to the patina of the costumes: this is truly admirable work! I've never had the occassion to do this on a film set myself since the costumes are, for the most part, rented (and you can't damage those costumes unless you want to lose your security deposit), but I hope to one day have the possibility to… |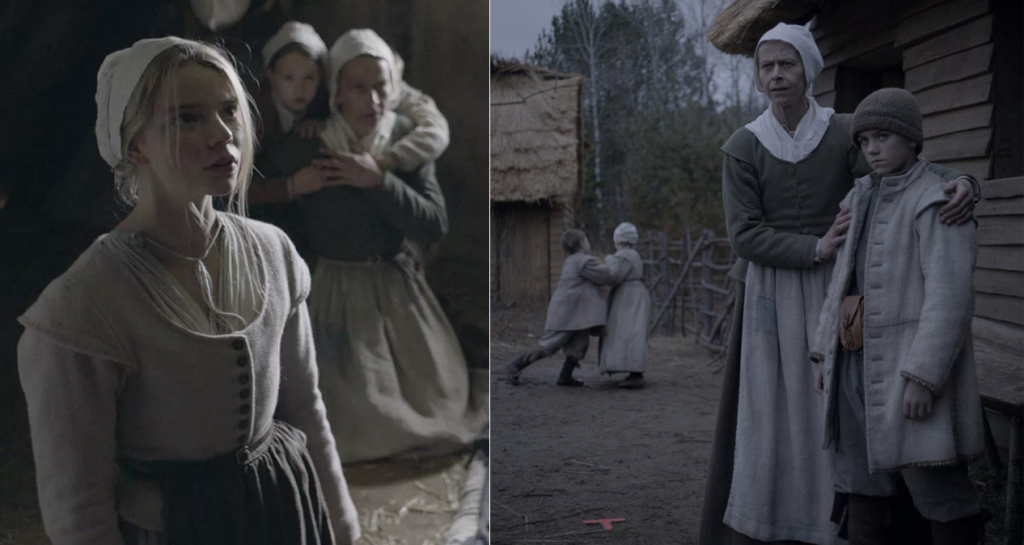 | | | |
| --- | --- | --- |
| Voilà, pour finir je vous donnerai deux liens contenant des interview de la costumière si vous voulez en apprendre plus sur son travail dans le film (désolée, c'est en anglais) : | | Voila! To finish things up, I'll provide you two links to interviews with the costume designer if you'd like to learn more about her work in the film: |
Dressing The Witch: An Interview with Costume Designer Linda Muir
http://www.wymsee.com/the-witch-costume-designer-talks-color-wool-and-the-rules-of-horror/
En tout cas je suivrai avec attention son travail désormais, en espérant qu'elle ait de jolis projets à développer très vite !

***

Je vous invite à revenir sur le blog la semaine prochaine pour un article sur l'exposition "Fashion Forward" aux musée des Arts Décoratifs de Paris !

In any case I'll be following her work much more closely in hopes that she'll produce more beautiful projects very soon!

***

I invite you to come back on this blog next week for an article about an exhibition called "Fashion Forward" in Paris "Art Décoratifs" museum !